Design Development of Knight Jorma
This is a bit of a short one.
Jorma's an interesting character because unlike any of the other main party members she was (mostly) devised after the setting had already been roughed out. she wasn't something from an older project transplanted to this one, like Nana or Vito, nor was she created for the game but before the setting had been conceptualized, like Ashley.
the first thing we decided on, before her design and even her gender, was actually her name. Jorma was a good sounding short name we both liked, and it would have been used for a (male) character in a failed project jess was once part of.
as the last main party member to be planned, she was born out of necessity in a way. we needed a good sixth member to round off the party, a sort of swing position that could fill the role of healer, tank, damage dealer, when appropriate. a jack of all trades, master of none.
with the white mage / paladin-esque class decided on, attributes of some older ideas were channeled into her design and characterization.
shockingly, I had a lady paladin in full plate as yet another ~planned background character~ for Solipsis. it's a cute design I think, though not so much something that inspired Jorma per se, more of a coincidentally similar design from a long time ago.
In terms of more recent designs, Jorma also owes a little to an idea for the unnamed RPG iteration that 'developed' before we began work on Voyagers. There was this character, a white magic fighter of some sort designated a 'Valkyrie'. I think her name was 'Frey' or something else nordic.
I still like that stripey 'olga gurlokovich' shirt she's got on. maybe jorma can wear one of those under her armor or something.
Jorma's basic silhouette, a tall slender figure in dark armor, was also not-so-subtly inspired by Cecil from Final Fantasy IV… jess was playing the playstation port of that game around the same time we planned this character, heh.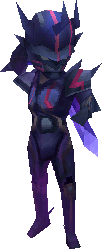 As Isaac had already been conceptualized at this stage, we needed some way to differentiate Jorma from this other plate-armored melee fighter. White magic was one thing, but design-wise her armor was made to be more… expensive and ornate looking. more noble warrior than mercenary.
another defining factor was that unlike Isaac, who ALWAYS uses big, not-always-practical swords in the style of the traditional video game fighter, Jorma was to be equipped with more 'accurate' knightly weapons - polearms, spears, axes, hammers and the like.
when it came time to make a dialogue sprite, jorma went through a couple awkward phases in adapting and coloring the design.
it seems to be the pattern that I get a sprite to a 'finished state' before deciding to tear it down and redraw it from scratch.
this is the current state of Jorma's sprite.
btw im aware that jorma is a male name